Piano repairs, tuning, dampp-chaser installation, and piano voicing servicing Central Massachusetts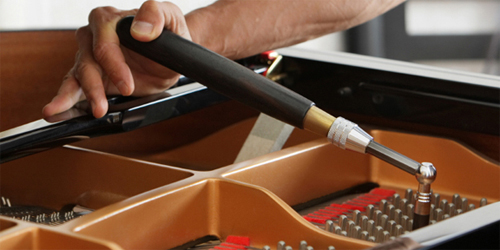 Over the years, I have performed more than 20,000 piano tunings and have worked hard to become well connected in the piano industry. To learn more about my reputation, please visit my testimonials page to hear what some of my past customers have to say. If you would like to learn more about the piano services I offer, please visit my frequently asked questions page.

Servicing All Makes of Pianos
A piano can bring hours of enjoyment to you and others, but it requires periodic maintenance to deliver outstanding performance through the years. I perform all piano services with the highest level of expertise because my goal is 100% customer satisfaction.
Piano Tuning
I provide the highest quality tuning services for in-home private clients, concert halls, recording studios, music schools, universities, churches, hotels, nonprofit organizations, and contracts for public and private schools.
Pitch Raise & Tune (Double Tuning)
When you choose me, you will receive the personal service you deserve. I evaluate every piano on an individual basis. I will only recommend a double tuning if I deem it is necessary.
Piano Repairs
For repairs, I will inform you of the necessary work that needs to be done and let you know the approximate cost of the repair before I begin any work.
Phone Consultations
Contact me today for a no-charge phone consultation. During this consultation, I will be happy to answer any questions you may have.
Piano Voicing
Receive the voicing that suits your discerning taste with an expertly voiced piano from Erickson Piano Works.
Keytop Recovering and Ivory Key Repair
I provide complete keytop recovering, repair, and restoration services. Contact me to learn more.

Dampp-Chaser Installation
As a field expert of Dampp-Chaser Systems, I can install and repair the full line of Dampp-Chaser Piano Life-Saver Humidity Control Systems and products to best protect and maintain your piano's structural and mechanical integrity.
Appraisals and Evaluations
When you are considering buying a used piano, you should have it appraised or evaluated before purchasing. This ensures that the piano is in good playing condition. I can provide you with reliable appraisals and evaluations whenever you need them.
Piano Rebuilding and Restoration
Whether your instrument is in need of complete piano restoration services—including soundboard, bridge, or pinblock replacement, or partial rebuilding— like piano case refinishing, restringing and action rebuilding, you can count on me to get the job done.
PianoDisc Instillation
I am certified for the installation, calibration, and repair of PianoDisc Player Systems. I also repair and troubleshoot Yamaha Disklavier™ and QRS Pianomation™ Player Systems.
Action Regulation
From touch-up or partial regulation, to completely regulating the action back to factory specifications, I offer a full range of high-level action regulation for your piano. I can also adjust the touch of the action (within certain limits) to meet your requirements.
Piano Action Reconditioning
To determine the amount of reconditioning necessary, each piano action will be assessed on an individual basis. Please contact me for more information.